Elliott Avenue, which originated as Water Street in A.A. Denny's 6th Addition to the City of Seattle, filed in 1873, received its current name in 1895 as part of the Great Renaming. It was named for Elliott Bay, which was itself named for Midshipman Samuel Bonnyman Elliott (1822–1876), part of the United States Exploring Expedition, otherwise known as the Wilkes Expedition. (Even though for years people thought the bay had been named for Chaplain J.L. Elliott, Howard Hanson makes a convincing argument in "The Naming of Elliott Bay: Shall We Honor the Chaplain or the Midshipman?", an article in the January 1954 issue of The Pacific Northwest Quarterly, that the honor belongs to the midshipman.)
Elliott Avenue begins at Western Avenue and Lenora Street and goes 2⅕ miles northwest to halfway between W Galer Street and W Garfield Street, where it becomes 15th Avenue W.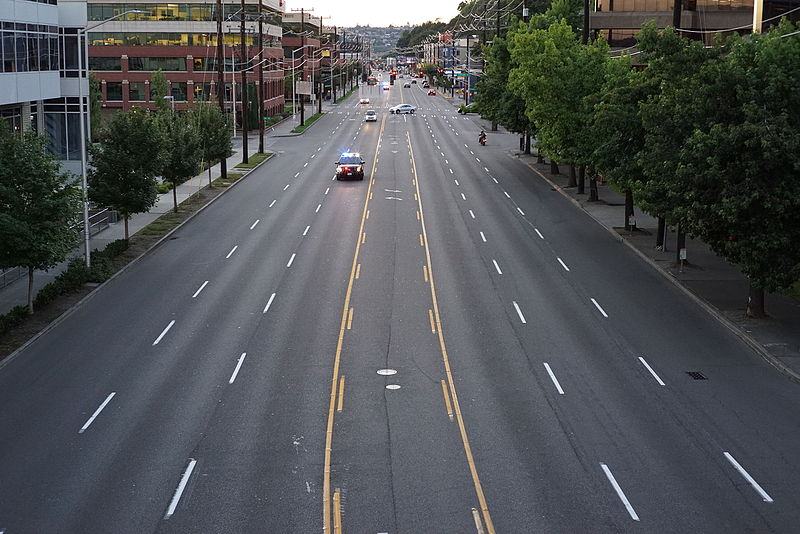 Born and raised in Seattle, Benjamin Donguk Lukoff had his interest in local history kindled at the age of six, when his father bought him settler granddaughter Sophie Frye Bass's Pig-Tail Days in Old Seattle at the gift shop of the Museum of History and Industry. He studied English, Russian, and linguistics at the University of Washington, and went on to earn his master's in English linguistics from University College London. His book of rephotography, Seattle Then and Now, was published in 2010. An updated version came out in 2015.