Seattle has a number of streets whose names incorporate directions, such as Northlake Way, Eastern Avenue, Eastlake Avenue, Western Avenue, Westlake Avenue, and Southern Street. But the one I drove by most growing up — and the only one to simply bear the name of a direction in its uncompounded, nominal form — is E North Street, which runs between E Montlake Place E and 24th Avenue E in Montlake, just south of the 520 interchange.
Two questions should spring to mind with a street name like this: North of what? and What happened to South Street?
The answer to the first question is north of where Harvey Lake Pike, son of John Henry Pike of Pike Street fame, had planned to dig a canal between Union Bay and Portage Bay.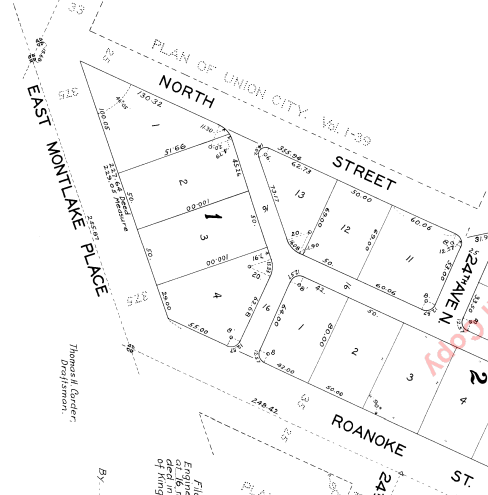 And the answer to the second is that it seems to have been subsumed in Roanoke Street when the Glenwilde Addition was platted in 1925. But North Street's name was never changed.
(There did use to be an East Street and a West Street, too, as you can see on the full plat map. If I read the quarter section map correctly, East Street is now 24th Avenue E, and State Route 520 now covers the land where West Street would have been.)
Born and raised in Seattle, Benjamin Donguk Lukoff had his interest in local history kindled at the age of six, when his father bought him settler granddaughter Sophie Frye Bass's Pig-Tail Days in Old Seattle at the gift shop of the Museum of History and Industry. He studied English, Russian, and linguistics at the University of Washington, and went on to earn his master's in English linguistics from University College London. His book of rephotography, Seattle Then and Now, was published in 2010. An updated version came out in 2015.