Usually, a Front Street designates a city's waterfront. Front Street in Philadelphia parallels the Delaware River; NW Front Avenue in Portland, Oregon, goes up the Willamette River; Front Street in Toronto runs along Lake Ontario. Seattle once had a prominent Front Street alongside Elliott Bay, but it was renamed 1st Avenue in 1895. The Front Street we do have runs a grand total of ⅖ of a mile split among three segments, and it runs east–west, while the nearby Duwamish River runs north–south. Why is this?
As it turns out, S Front Street — established as part of Joseph R. McLaughlin's Water Front Addition to the City of Seattle in 1906 — did use to run along the river, before it was rechanneled beginning in 1913. (Here is an excellent post from the Burke Museum on the Duwamish meanders, with some great maps and aerials.) The maps below show its course along the Duwamish River Oxbow in 1912 (left) and its current landlocked state (right). You can still make out its former location, as well as small remnants in the form of the Slip 2 and Slip 3 inlets. (Incidentally, Front Street originally was shaped like a horseshoe — today's S Front Street was originally North Front Street, and South Front Street is today S River Street.)
Speaking of the Oxbow, here's an advertisement for it. So much for that "16,000 feet of deep water frontage."
Today's S Front Street begins at 6th Avenue S and goes ¼ of a mile west, ending just beyond 4th Avenue S. There is another 400-foot-long section between E Marginal Way S and 1st Avenue S, below the approach to the 1st Avenue S Bridge. And then there is one last 200-foot-long section on the west side of the Duwamish River — SW Front Street starts at W Marginal Way SW and ends at the entrance to the Port of Seattle's Terminal 115 (which used to be Boeing Plant 1, the airplane manufacturer's first production facility).
Incidentally, here's a great article on the one in New Orleans I came across while looking up various Front Streets. It's hard to beat a lede like this: "In a city replete with famed streets, scenic avenues and poetic street names, one particular artery excels at being obscure, nominally insipid, marvelously intermittent, and sometimes barely even a street."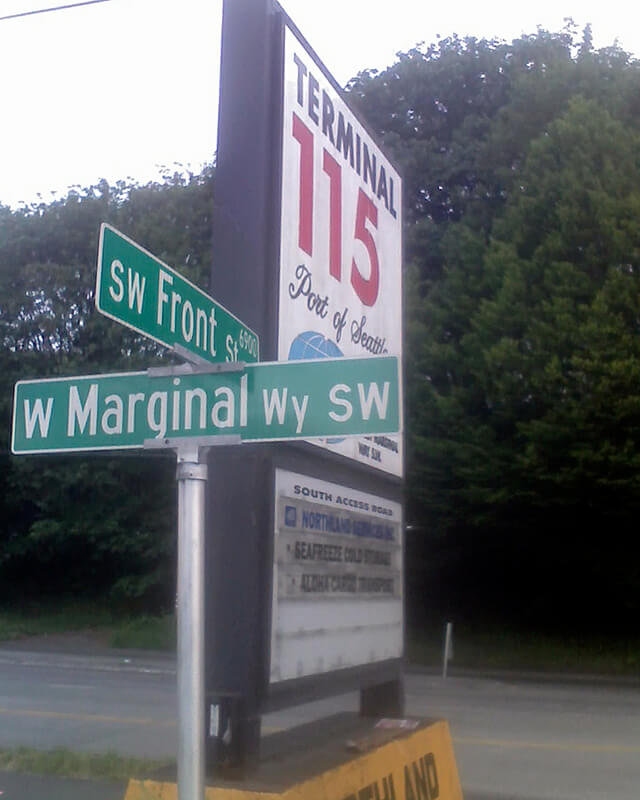 Born and raised in Seattle, Benjamin Donguk Lukoff had his interest in local history kindled at the age of six, when his father bought him settler granddaughter Sophie Frye Bass's Pig-Tail Days in Old Seattle at the gift shop of the Museum of History and Industry. He studied English, Russian, and linguistics at the University of Washington, and went on to earn his master's in English linguistics from University College London. His book of rephotography, Seattle Then and Now, was published in 2010. An updated version came out in 2015.