This street runs just shy of a mile through the gated Broadmoor neighborhood and golf course from its south entrance at E Madison Street at 36th Avenue E to its north entrance at E Foster Island Road.
An article in the May 18, 1924, issue of The Seattle Times noted that "[Broadmoor's] roadways will not be public streets as in other residential sections of the city," calling this "one of the unmatched features of this community," and adds that "certain restrictions have been named both as to the class of residences that may be constructed as well as to those who will be admitted to membership." The entire community being private was a first for Seattle, and in fact has never been repeated — the Sand Point Country Club was also established in the late 1920s, but was in unincorporated King County at the time and wasn't annexed until 1953, whereas Windermere, established within Seattle city limits around the same time, was in fact platted as a traditional neighborhood, albeit one with private amenities.
Speaking of those "certain restrictions," by the way, it seems that even in the 1920s one could not say openly in the press what one really meant. But Broadmoor deeds and their racial restrictive covenants are public record:
No part of said property hereby conveyed shall ever be used or occupied by any Hebrew or by any person of the Ethiopian, Malay or any Asiatic Race, and the party of the second part, his heirs, personal representatives or assigns, shall never place any such person in the possession or occupancy of said property or any part thereof, nor permit the said property, or any part thereof, ever to be used or occupied by any such person, excepting only employees in the domestic service on the premises of persons qualified hereunder as occupants and users and residing on the premises.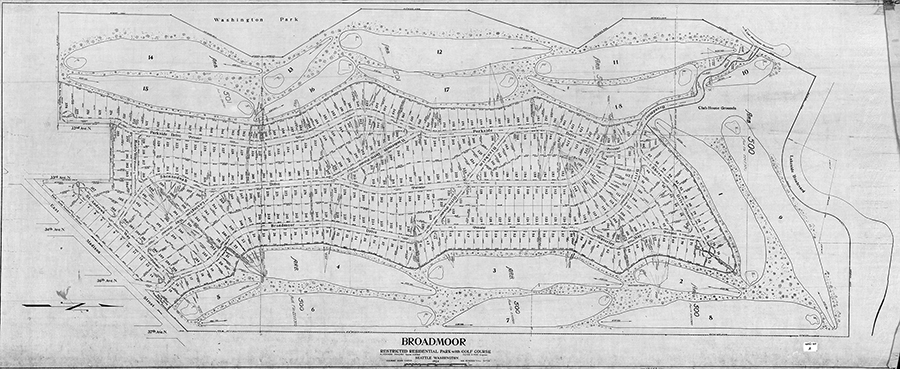 The origin of the Broadmoor name is not entirely clear. Did it have anything to do with the Broadmoor Golf Club in Colorado Springs, which opened in 1918? Or with the moors of Scotland, home of modern golf? The above-mentioned Seattle Times article, which is so similar to one in the Seattle Post-Intelligencer it must have been based on a Puget Mill Company press release, doesn't say. (My friend, local historian Joe Mabel, notes the best-known Broadmoor in the U.K. is actually a high-security psychiatric hospital founded in 1863.) It may just be that "Broadmoor" was considered to be "elegant." Perhaps the answer lies somewhere in the personal papers of Edwin Gardner Ames, Puget Mill president and one of the developers of Broadmoor along with Grosvenor Folsom and George W. Johnson.
Born and raised in Seattle, Benjamin Donguk Lukoff had his interest in local history kindled at the age of six, when his father bought him settler granddaughter Sophie Frye Bass's Pig-Tail Days in Old Seattle at the gift shop of the Museum of History and Industry. He studied English, Russian, and linguistics at the University of Washington, and went on to earn his master's in English linguistics from University College London. His book of rephotography, Seattle Then and Now, was published in 2010. An updated version came out in 2015.